WASA News and Upcoming Events
Help Us Help Others
The Westborough Athletic and Social Association 'WASA' sponsored a day in support of the Westborough Food Pantry. The event honored the memory of Anne Marie Flood, a resident of Westborough who was actively involved in many organizations and supported many causes around the community. Anne Marie and her family have been long-time supporters and close friends of WASA.
The goal for the day with the assistance of the community was to collect canned goods and other key items that the Westborough food pantry needs during the upcoming Fall and Winter months.
WASA members were located at both Stop and Shop locations and Roche Brothers throughout the day on Saturday May 2014.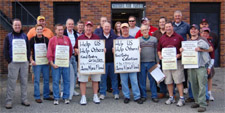 Click on this image to see a larger version.
WASA would like to thank the ongoing generosity of the people who donated the food and money that made the day a success. We recognize the economic challenges faced by all and thank you for helping us with this worthy cause.
Relay for Life
The WASA will again be sponsoring the morning breakfast for the Relay participants on Saturday June 21st. Members of WASA will be cooking and serving breakfast throughout the morning.
This is the third year we have sponsored the breakfast and look forward to continuing to partner with the Relay committee in the future. Mr. Bill Van Dam is the WASA chairperson for the event and any questions or donations can be forwarded to the club at our contact address in Bill's name.
Scholarship
The WASA offers a scholarship to a worthy student returning to their sophomore year in college. This scholarship is open to all students who have completed the freshman year successfully and will be returning in the Fall of 2015.
Applications for the scholarship can be picked up at the Recreation department in the town office or at the high school guidance office. The deadline for applications to be returned is July 31, 2015.
---
©2008 WebMaster Connor Lees. All rights reserved. The unauthorized reproduction of any of the material on this web site and any affiliated web sites without the consent of the author or organization is strictly prohibited.